Our two fitness formats, Yoga Tune Up® and The Roll Model® Method, focus on improving range of motion, eliminating pain, strengthening musculature around the joints, downregulating the nervous system and preparing the body for optimum performance. Classes, Workshops & Trainings can be found around the globe.
Our Roll Model® Method and Yoga Tune Up® Trainings provide fitness professionals and clinicians with hands-on assessment tools, critical thinking skills and the confidence necessary to help their students and clients achieve their most intelligent mind–body practice. Our focus is on delivering a strong biomechanical science foundation that provides consistent therapeutic benefits.
We provide a line of self-care products and videos direct to consumer and wholesale. Our myofascial tools, the Roll Model® Therapy Balls, help eliminate pain, improve range of motion and assist in downregulation/recovery. Our DVDs and Online Videos focus on stability, strength and mobility, within targeted body regions but take an integrated whole body approach.
Pose Of The Week from Yoga Tune Up®
Therapeutic Application:
Building strength in glutes and hamstrings while also improving breathing capacity.
Learn more
Weekly Rollout from The Roll Model® Method
Rollout:
Unzip The Bony Corset
Therapeutic Application:
Can quickly alleviate tension and stiffness that can cause headaches and upper back stiffness.
Learn more
Recent Articles
Men… O… Pause. Am I going crazy? Is this my mid-life crisis? I keep feeling… lots of feelings. From one second to the next I am feeling sweaty, irritable, MOODY, tired, the list goes on. Menopause is defined as "the period in a woman's life between 45-50; the ceasing of menstruation." Thanks, Google. But it […]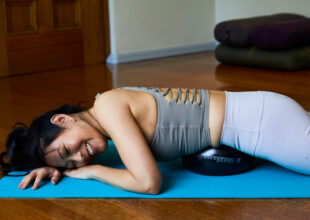 During the holidays it's normal to go off track from your typical eating and movement habits. You could find yourself eating more animal or dairy products than normal. Your food might be much saltier with someone else seasoning it. You may go nuts on the carbs and sugar when you typically keep them at bay. […]
I obsess about people. I was born with what my granny called her "what makes people tick?" gene – why does someone think, feel, or act how they do? In my younger years I repeated what people said on TV, moved my face and body exactly as they did, in the hopes that their experience […]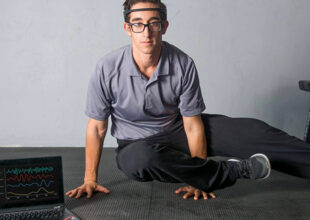 "Look at autonomic nervous system regulation as a skill, not a state." – Ryan Glatt How does an overweight kid with ADD turn into a personal trainer specializing in brain-based fitness? Well, it all started with video game Dance Dance Revolution which got teenage Ryan Glatt out of sedentary gaming, into movement. He started losing […]
---
Visit the Blog