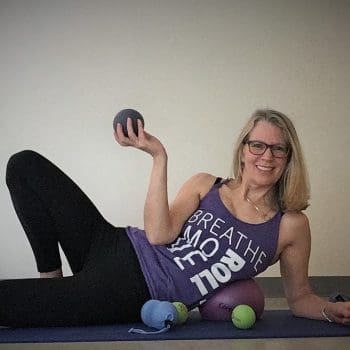 Alison Pignolet
Yoga Tune Up® Teacher
Teacher Trainer
Integrated Teacher
Roll Model® Method Practitioner
Website: www.yogageauga.com
Email: alison@yogageauga.com
Location: Novelty, OH, US
A Little About Me
I am an E-RYT200 yoga teacher since 2010, and a Yoga Tune Up® and Roll Model® Method Teacher Trainer. I live near Cleveland, OH and happily travel to new places to lead TUFW trainings. Spreading the body and movement nerd word is my passion.
Join me for upcoming Body by Breath inspired workshops at Razz Yoga in Phoenix, MD on Saturday May 20 or at Yoga 108 Body, Mind, Soul in Brecksville, OH 3 consecutive Thursdays in June.
Over the years I have enriched my teaching with over 500 hours of additional training, primarily in anatomy (including a 6-day human dissection course with Gil Hedley) and therapeutics as well as branching out as a MovNat Level 1 trainer and a RockTape Movement Specialist. My classes are rich with anatomy, body knowledge and functional movement. My students learn to be skilled self-care mechanics.
I believe every person who lives in a body needs to create their own personal owner's manual. Yoga Tune Up® and the Roll Model Method® are systems to teach a deeper understanding of how your body works, enabling you to be your own self advocate in your movement practices.


Read my articles on the Tune Up Fitness blog here.
Tune Up Fitness Continuing Education
Yoga Tune Up Teacher Certification
Integrated Embodied Anatomy
Hips Immersion
Shoulders Immersion
Core Immersion
Body by Breath Immersion
View All Teachers