Body by Breath Immersion
Instructor:

Venue:

Bloom Holistic Retreat Centre

Location:

1423 Rutledge Road, South Frontenac, , K0H 2L0, CA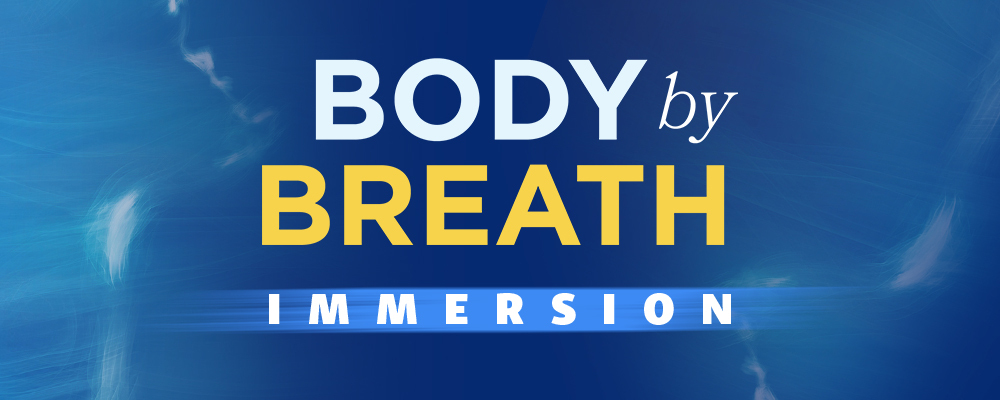 This 3-day immersion provides you with multiple embodied explorations that create the conditions needed for profound relaxation, increased body awareness and mind-body connectivity.
Reset your breath and body by combining moving meditation, physiological listening and emotional attunement.
The Body By Breath Immersion weaves together important physiological concepts with clear application exercises for building both physical and mental resilience.
Explore the Anatomy & Physiology of Building Resilience:
The Vagus Nerve – Learn new perspectives on the Vagus nerve and explore multiple ways to stimulate the Vagus to deploy a body wide parasympathetic cascade.
The Diaphragm – Discover new varieties of breathwork that enhance the diaphragm's efficiency as the prime mover of respiration.
Fascia & Self-Massage Techniques – Engage with new fascia science and practice rolling with Roll Model® balls to hasten relaxation and pain relief.
Non-Sleep Deep Rest and Yoga Nidra – Craft successful relaxation protocols for yourself and your clients. Learn modifications to shape manageable and inclusive meditation techniques for all.
You'll find a treasure chest of new practices to enhance your well being and those of your clients & students. This program is ideal for movement educators and clinicians of every discipline; athletes, coaches, manual therapists, mental health professionals and any individual looking to enhance their recovery tool-kit and build resiliency. You will leave with skills, techniques, and creative solutions for guiding yourself or students into down-regulation.
** Open to all levels of students and teachers of all styles.
*** Tuition Includes a pair of Yoga Tune Up® Balls and a Coregeous® Ball
REQUIRED READING:
Body By Breath: The Science and Practice of Physical and Emotional Resilience (books available through Amazon.ca, Indigo and all online retailers.
RECOMMENDED READING:
The Roll Model: A Step-by-Step Guide to Erase Pain, Improve Mobility, and Live Better in Your Body by Jill Miller –
Arrive Wednesday August 16th and depart Saturday August 19th, with the option to extend your stay after the retreat for one night. 
Bloom Holistic Retreat will be your lakefront home away from home. Located on 681 acres of pristine boreal forest, it offers unparalleled comfort in an environment of unbuttoned luxury. The kitchen at Bloom follows a farm-to-table food philosophy that makes every meal at the communal tables truly memorable. Meals are vegetarian and we can accommodate most dietary needs. Swim in the lake, forest bathe, bird watch, hike on 25 kms of groomed trails, or visit with the herd of Highland cattle that roam free on the land—do it all or do nothing at all. Your retreat includes accommodation, all meals, and yoga instruction.