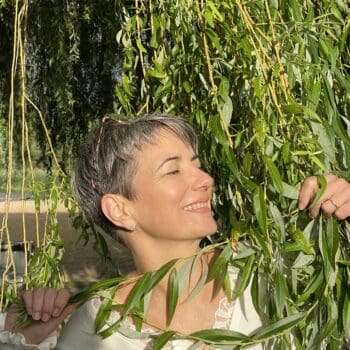 A Little About Me
My Specialties: Hatha Yoga, Yoga Tune-up, Yoga du visage, Yoga restaurateur, Yoga avec balles thérapeutiques selon la méthode The Roll Model.
Par la pratique des Asanas le yoga est entré dans ma vie peut-être par hasard il y a plus d'une dizaine d'années. Au fil du temps, cette discipline a pris de plus en plus de place dans mon quotidien. Il fait maintenant partie intégrante de qui je suis.
En réalité, rien n'arrive par hasard…
Suite à une période difficile à l'aube de la cinquantaine, j'ai eu le bonheur et la chance de côtoyer de belles personnes inspirantes qui ont changé ma vie. Merci à Maryse Lehoux , Mireille Martel et Julie Cadorette de l'université internationale Yogami. J'ai été été certifié professeur de Hatha Yoga  en 2021. Durant ma formation de 200 heures, j'ai découvert les bienfaits des balles thérapeutiques « Therapy Balls ». J'adore les balles 💖 et l'univers de Jill Miller. C'est ainsi que j'ai décidé de me lancer dans la grande aventure des balles et du Tune Up. J'ai reçu ma « Certificate of completion » The Roll Model method en janvier 2021 et « Yoga Tune Up Teacher Certification » en octobre 2022.
Depuis j'ai suivi d'autres formations. Je me suis spécialisée en Yoga restaurateur avec Marie Daphné et en Yoga du visage avec Sylvie Lefranc.
Maintenant j'ai l'honneur et le grand plaisir de partager avec vous, toutes ces richesses qui m'ont été transmises, ce beau mélange qui teinte ma personnalité, ma pratique ainsi que mes cours.
Sur le chemin de la vie, je reste l'élève de tout mon Être. Comme une enfant qui s'émerveille, je prends beaucoup de plaisir à poursuivre mon apprentissage afin de le partager avec d'autres belles Âmes….
Bienvenue à vous qui êtes curieux et soucieux de votre bien-être !
Namasté
Tune Up Fitness Continuing Education
Yoga Tune Up Teacher Certification
Roll Model Method Certification
Roll Model Method Certification
View All Teachers