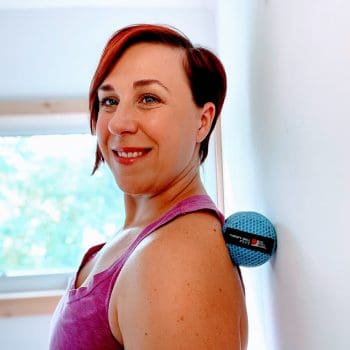 Ashley Vasas
Yoga Tune Up® Teacher
Website: www.nourishandgrowyoga.com
Email: ashley.vasas@gmail.com
Location: Minneapolis, MN, US
A Little About Me
I'm Ashley Vasas (she/her), a yoga teacher and founder of Nourish & Grow Yoga, located in Minneapolis, Minnesota. 
I'm passionate about sharing the power of yoga movement and philosophy to help my students open themselves up to vibrant health, joy, and self-compassion. 
After experiencing a severe car accident, I remember finding myself bloated, burnt out, and in chronic pain, knowing something had to change. I reached for yoga as a low-impact fitness option and found a far more potent practice.
Though my yoga practice ebbed and flowed, I kept returning to the mat. With time and consistency, my body became stronger and more limber, and I realized I was living with much less pain. 
And that is what led me to become a teacher — I wanted to share this fantastic vibrancy with others. I have studied several yoga modalities to offer my students whatever their unique body needs, including Vinyasa, Hatha, Yin, Pre-and Post-natal, Yoga Nidra, Meditation, and Yoga Tune Up®. I've poured more than 500 hours into my yoga education studies, earning my RYT 500 from Yoga Alliance in 2022.
I help my students discover their potential through yoga, meditation, and self-love. I work with people of all ages, flexibility, and physical fitness levels. I believe that yoga, in its many forms, has something to offer everyone.
Tune Up Fitness Continuing Education
Yoga Tune Up Teacher Certification
Rolling Along the Anatomy Trains Course
View All Teachers