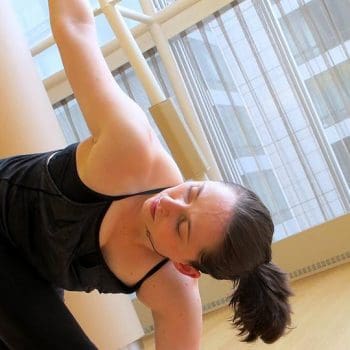 A Little About Me
Courteney has been practicing yoga regularly since 2001, and completed her 200 hour yoga teacher training through Pure Yoga with Marc McDonald and Kay Kay Clivio. She turned to teaching because she felt she had gained so much from the practice (particularly the ability to breathe), and that it was her duty to pay that knowledge forward to others. Her philosophy is that the more ways you can learn to move your body, the better off you will be – one of the reasons she also holds licenses to teach Zumba and TRX, as well as AFAA Group Exercise and Cycling certificates. Over the years, she has immersed herself in the study of all different types of movement through yoga – from Ashtanga and Budokon, to Yoga Tune Up® and more restorative forms of yoga – she believes the mat can hold something for everyone.

Courteney strives to create a safe yet challenging environment in all of her classes – where students of all levels can co-exist and reap all the benefits yoga and fitness have to offer. She has over 500 hours of training in various disciplines, and has been inspired by all of her teachers along the way – Marc, Kay Kay, Lillee Chandra, David Swenson, Shelley Washington, Jen Malone, Deborah Lee, Liz Arch. . .and countless others.

When she is not helping others discover their passion for yoga and fitness, Courteney is a successful Account Executive in online media sales.
Tune Up Fitness Continuing Education
Yoga Tune Up Teacher Certification
Integrated Embodied Anatomy
View All Teachers