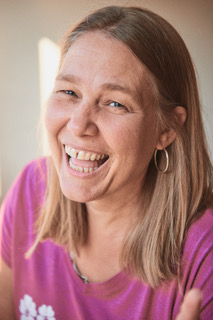 Julie Rosier
Yoga Tune Up® Teacher
Website: www.yogawithjulie.com
Email: yogawithjulie@me.com
Location: Raleigh, NC, US
A Little About Me
I have been teaching Yoga for a long time...over 20 years. My practice and my teaching practice grow and change with time. When I first started teaching, I made a mission statement of sorts. The number one thing on my list was to create a sense of community in my classes. 20 years later, I think that is what makes my classes special.

I think self reflection, stillness and meditation are important but without a group to process it with it can be lonely and not a very effective path. We are human beings, we need each other. And the yoga process is fuller with a community.

My teaching style is accessible and friendly. Students feel comfortable to alter poses to suit their needs; either to an easier pose or a harder pose. Students are part of the lesson planning. At the beginning of each session, we discuss as a group what we want to do and where we want to go with the practice. This really is student directed teaching. I am a better teacher because of the connection I have with my students and the comfort my students have with themselves, in the group and in their bodies.

I have trained with many great teachers over the years, including Esther Myers, who empowered me to own my teaching and to really teach to who is in the room. My latest discovery and source of nourishment is the world of Yoga Tune-Up®. Jill Miller and her band of teachers are smart and talented. I am glad to be able to now consider myself a part of that group. I was certified a Yoga Tune Up® teacher in the winter of 2018. It required lots of workshop work, homework and teaching. It is such a lovely addition to the blend of yoga and movement that we were already doing in class. Please come and try it out.


Tune Up Fitness Continuing Education
Yoga Tune Up Teacher Certification
View All Teachers