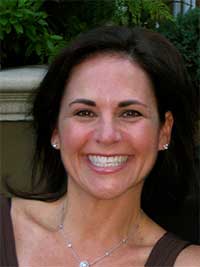 Linda Brown Arrandt
Yoga Tune Up® Teacher
Website: www.simpleandwell.net
Email: linda@simpleandwell.net
Location: Chicago, IL, US
A Little About Me
Linda Arrandt is an Integrative Nutrition Health Coach, Licensed Massage Therapist, Certified Pilates Instructor and a Certified Yoga Tune Up® Teacher and Roll Model Method Instructor. Linda has been in the health care field for 25 years. Linda works with clients to help them live a life free from pain. As a health coach, Linda believes that through life-style change such as proper diet and exercise people will reduce inflammation in the body. As a former massage therapist, Linda sought personal relief from pain and received help through a local yoga class, which is where she first was introduced to the awesome Yoga Tune Up® Therapy Balls. Linda then took The Roll Model® Method - Science of Rolling Training to learn how to treat herself and prolong her ability to work as a massage therapist as well as help clients learn self-care tools. She found so much personal relief through a regular practice that she also took the Level One Yoga Tune Up Teacher Training.

"From the first time I took the yoga class with the Yoga Tune Up® Therapy Balls, I knew I found an amazing tool to heal the body. I knew it would be great for all of my health coaching, massage & pilates clients. I converted my husband who is a Chiropractor to prescribe them to all of his patients as he had been giving them tennis balls for years. This tool can help every patient and client unlock their own healing potential. We are both seeing profound result in our patients!"

Linda is passionate about helping people live better in their bodies and teaches them tools of self care which prevent injury and dysfunction. She believes that clients can heal their body internally through what they consume and externally through utilizing the Yoga Tune Up® Therapy Balls for regular self-care. While utilizing the Yoga Tune Up Therapy Balls, Linda teaches clients techniques of self-care to help unwind and heal their tissues.

Linda offers customized one-on-one sessions and group workshops at Balance Health + Wellness in Chicago. ​Linda Arrandt is a dedicated professional focused on combining varying modalities of self-care to help her clients heal.
Tune Up Fitness Continuing Education
Yoga Tune Up Teacher Certification
View All Teachers