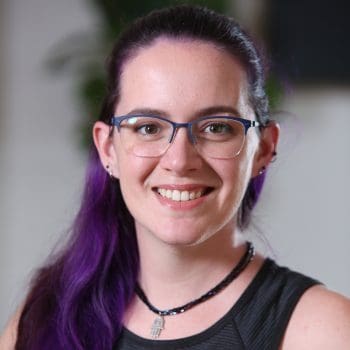 Sarah Nelson
Yoga Tune Up® Teacher
Roll Model® Method Practitioner
Website: sarahnelsonyoga.com
Email: sarahlissanelson@gmail.com
Location: Midland, MI, US
A Little About Me
My Specialties: Forrest Yoga & Yoga Tune Up
Besides being an animal lover, nature enthusiast, and creative spirit, I'm a certified yoga instructor who specializes in Forrest Yoga, Yoga Tune Up®, and Roll Model Method® myofascial release, as well as other mindful movement and meditative practices. My goal as a yoga teacher and my dharma as a human is to support and inspire others to feel more at home and empowered in their own bodies, and to hold space for my students to cultivate curiosity about their own inner experiences and facilitate a nourishing mind+body+spirit connection.  
Since I am a huge anatomy nerd and love to educate others on this topic, my classes are often infused with my fascination with functional movement and embodied exploration of the body's inner mechanics because I believe in helping others feel more at home and empowered in their own bodies. In my classes, expect to be given choice and autonomy, use plenty of yoga toys, learn a little somethin' about yourself, and maybe giggle a little with (or at) me and my terrible corny jokes.  My teaching style is from a functional approach, and always inclusive, body-positive, and trauma-informed.
After finding yoga - specifically Forrest yoga - I have truly found myself and felt my life completely transform in more ways than seemed possible, which led me to become a yoga teacher in 2016 - quite the pivot for someone who has two degrees in architecture!  I am now beyond grateful to be a full-time yoga teacher and have over 2100 hours (and counting!) of teaching experience, but I consider myself first and foremost to be a student of yoga.  I have continued to learn and hone my teaching skills by attending numerous continuing education programs and various other learning opportunities, totaling over 660+ hours of formal yoga education - earning the designation of E-RYT200 and Level 3 in the Forrest Yoga system.  More recently, I have been branching out to be a teacher of teachers, specifically offering yoga anatomy continuing education opportunities for yoga teachers as a YACEP.
I'm a Florida girl at heart but am now based in Midland, Michigan.  When I'm not teaching and practicing yoga, I can often be found spending time outside exploring Michigan's abundant natural beauty or getting my hands dirty in the garden, or working from home in my plant-filled mid-century modern house – probably with one of my cats snuggling in my lap.  
Credentials:
E-RYT200 & YACEP designation with Yoga Alliance
BA & MA from University of Florida in Architecture 
200hr YTT in Forrest Yoga 2016
Mindful Mamas Prenatal Yoga Level 1 30hr 2017
Forrest Yoga Mentorship Program 54hr 2017
Forrest Yoga CET Effective Coaching & Teaching 42hr 2018
Yoga To Transform Trauma 49hr 2018
Forrest Yoga Level 2 & 3 Recognition 30hr 2019
Yoga Nidra 8hr 2019
Roll Model Method® Certification 30hr 2019-2020
Forrest Yoga CET Ceremony, Mindfulness & Meditation 42hr 2020
Forrest Yoga CET Anatomy & Physiology 42hr 2020
MyoYin Certification 30hr 2021
Yoga Tune Up® Certification 70hr 2021 
Forrest Yoga CET Hands-on Assists 35hr 2023
Tune Up Fitness Continuing Education
Yoga Tune Up Teacher Certification
Roll Model Method Certification
View All Teachers