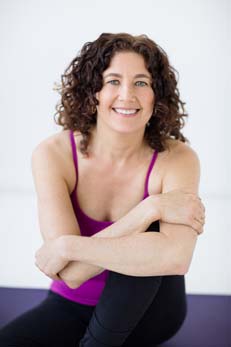 Stacey Rosenberg
Yoga Tune Up® Teacher
Roll Model® Method Practitioner
Website: www.namastacey.com
Email: yoga@namastacey.com
Location: San Francisco, CA, US
A Little About Me
Stacey is an educator who is committed to teaching students about their bodies while providing them with the foundation to live more vibrant lives.  She believes that the practice of the postures not only enables us to stay fit and increase health and well being, they also empower us - equipping us with the tools to engage in all aspects of our lives more skillfully.

Her classes flow at a moderate pace, abundant with detailed alignment instructions and techniques that help students get stronger, find healthy range of motion, and provide a fresh perspective on the postures. Options are offered for all students to engage fully at their level, respect their own limits, and challenge themselves to expand their boundaries. 

Yoga radically transformed Stacey's life, and her passion and enthusiasm for the practice is contagious. A dedicated practitioner since 1995 and teacher since 2000, Stacey continues to fall more deeply in love with all the aspects of the yoga practice. She is known for her light-hearted, down-to-earth attitude, clear and precise instruction, and creative and coherent sequencing. Stacey teaches publicly and privately in San Francisco and beyond, she invites you to step in to one of her offerings soon.
 
Tune Up Fitness Continuing Education
Yoga Tune Up Teacher Certification
Body by Breath Immersion
Core Immersion
Hips Immersion
Shoulders Immersion
Integrated Embodied Anatomy
Roll Model Method Certification
View All Teachers