I call this pectineus stretch the 'PPP': Pectineus Pucker on a Pedestal!
Lie on your side with one Yoga Tune Up® Therapy Ball on a block (or book). The self-massage ball is level with the crotch area. The pectineus is a groin muscle in the upper inner leg, so you want to make sure you are in the correct location.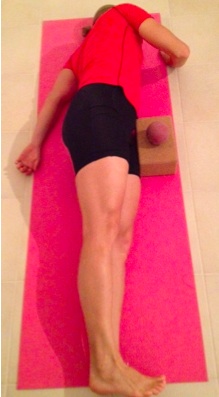 Raise leg up to ball. Feel the ball underneath your skin. Be careful: there is the femoral artery, nerve and vein close by; if you feel any electric/nervy/pulsy sensation, get off that area [this includes lymph nodes]. The ball is very close to your pelvis and on the lower half of the width of your leg. In this picture I am pressing my right knee into the ground diagonally towards my left shoulder (without moving it) to activate my pectineus. It is a subtle sensation. If you have localized referral discomfort or discomfort into the pelvis you have arrived on your pectineus! If you felt discomfort down the leg you need to place ball closer to your groin. Once you have found the spot, relax your knee and gently posteriorly and anteriorly tilt the pelvis. In addition to providing pectineus pain treatment, you're also alleviating your psoas and iliacus to boot!
Read "Strengthen Your Pectineus!"
Discover Yoga Tune Up® at home.