​
The Science of Rolling
Teacher Training
---
The Science of Rolling training empowers you to personally adopt and teach simple and effective self-myofascial release regimens.
What do you learn?
Roll Model® Therapy Balls are a soft-tissue conditioning tool that can be used as an adjunct offering within personal training, stretch, Pilates, wellness coaching, yoga, massage therapy, clinical or mental health settings, children or special populations. These on–the–go balls improve body coordination, reduce pain and improve movement. They can be used in a variety of settings; office, home, gym, clinic and yoga/Pilates studios.
Amplify your personal embodiment and learn applicable fascia science, bony landmarks, myofascial junctions, and pain physiology. Master specialized ball rolling techniques that penetrate into common high-tension areas. You will learn 6 head-to-toe series proven to affect profound change in the rotator cuff, upper back, neck, jaw, hips, lower back, IT Band, calves, and feet.
​
Craft Self-Care Solutions
Fortify your instruction with fact-based solutions to help your clients eliminate pain.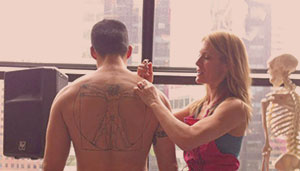 Improve Your Body Mapping Skills
Learn to navigate the human body and its' different textures and tensions.
Reduce Your Stress Load
Expand your professional offering with a holistic tool that increases professional longevity.
This module is open to all levels of student/educator/clinician. There is no pre-requisite to attend this Roll Model® teacher training, but you are highly encouraged to take The Roll Model® Method Ball Sequencing & Innovation before or after The Science of Rolling.

CEC credits available with NASM, ACSM, AFAA, ACE, IAYT
Required Reading:
Trail Guide to the Body by Andrew Biel
The Roll Model: A Step-by-Step Guide to Erase Pain, Improve Mobility, and Live Better in Your Body by Jill Miller
Fascia: Function & Physiology Webinar, from Yoga International
Recommended Reading:
Fascia: What It Is And Why It Matters by Mark Lindsay by David Lesondak

Fascia, The Tensional Network of the Body
The Muscle and Bone Palpation Manual by Joe Muscolino
​​Interested in hosting a training? CLICK HERE